Anybody can give you a prototype, we give you a company
Our Team combines decades of both direct clinical experience with medical device sales and marketing. We evaluate projects based on business development potential and then develop a comprehensive strategy, including design, intellectual property, regulatory, and market development customized to the exit goal. Let us show you how our unique process of evaluation and strategic planning can help to de-risk your project and increase the chance of a successful exit.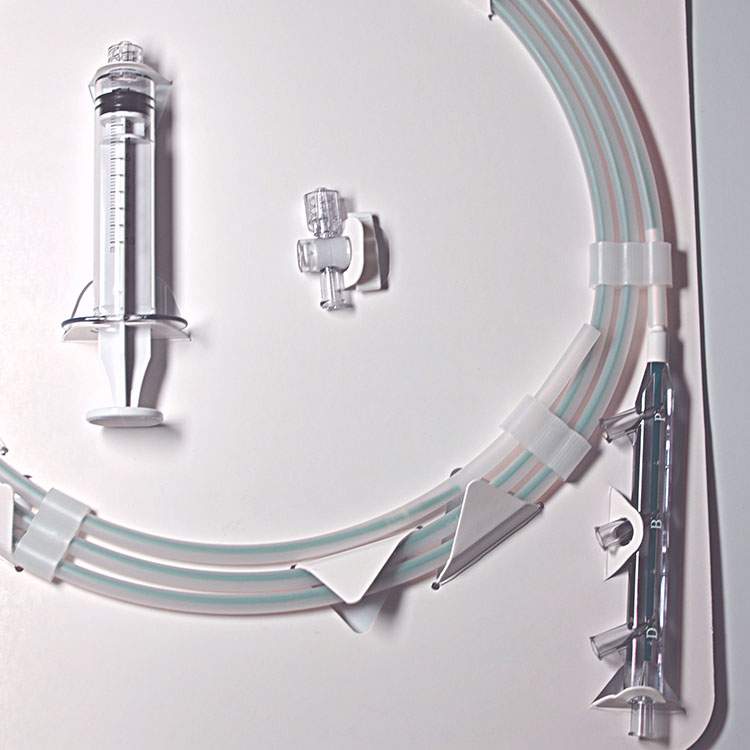 Physician Driven Innovation
We founded EndoRx to change how early stage medical device technologies are brought to market. 
Our first product, the Rhino, was the first biliary stone removal balloon with an expansion range of 9-22mm, eliminating the need for traditional balloon size selection by conforming to any size bile duct. We successfully navigated the Rhino from concept to 510K clearance in 13 months.
EndoRx launched the Rhino at DDW 2015 and sold the Rhino from our office in the Texas Medical Center until ConMed acquired the product line in the spring of 2017. EndoRx now develops medical technologies both organically and with outside partners to bring physician driven innovations to market.
Innovative technologies designed for commercial success
Rhino
The first "one size fits all option" biliary stone retrieval balloon with 9-22MM expansion capability in one balloon.
Exited to ConMed April 2017.
Mammo-Flex
The first wire-free and capital-free breast lesion localization system.
Coming Soon
QuickTube
The first ever suture-free chest tube drainage system for the treatment of pneumothorax.
Coming Soon
ADB
The first independently controlled dual anchoring dilation system designed to eliminate balloon slip for all GI procedures.
Coming Soon
Testimonials


"As a physician inventor I had no idea how to turn a project into a product. I was fortunate enough to connect with EndoRX very early on in the process. They have been there through every step of the process, from writing a patent to perfecting the design and moving toward commercialization. With their professional connections and precision execution, we now have multiple industry leaders interested in working with us. I give EndoRx my highest recommendation and look forward to our continued collaboration."
Dr. JB Henderson, the inventor of the Mammo-Flex.

"Piranha Medical has had the pleasure of working with EndoRx since 2017. They have been instrumental in the development and commercialization of the Piranha GI and Piranha ER devices. EndorRx not only designed one of the best booth exhibits at the DDW conference for us but they also helped our company manage the booth during the show. Their presence and connections at the conference was very impressive by anyone's standards. EndoRx has connected us with multiple future Business Development Opportunities as well as communicated in our behalf to possible distribution partners. EndoRx has shown their expertise across all phases of the medical device development cycle. Piranha Medical is looking forward to continued partnership with EndoRx."
Michael Augustine, Chief Executive Officer
Comprehensive Development Solutions
Whether you're starting with a concept drawn on a napkin or need market development consulting on a commercially available product, EndoRx is a turnkey solution for your needs.
Project Management
You've got a great concept, but no idea what to do next. We can review your project, recommend the best solution for prototyping and manufacturing, then manage the project from start to finish.
Learn More >
Project Management
Prototype development
Manufacturing vetting and selection
Commercialization project management
Quality system development
Market Development
A clear product message is essential to effective pre-market development and commercial launch success. Many medical device start-ups pay little attention to the development of impactful marketing assets. Let us show you how our process of developing a custom marketing platform for your device can impact your chances of success.
Learn More >
Market Development
Messaging
Website development
Logo and branding
Print resources
Trade show solutions
Executive Management
Want us to handle everything? No problem. We can manage all company operations from development and manufacturing down to the tax returns.
Learn More >
Executive Management
Full time General Management
Vendor relations
Contract negotiations
Legal support
Product Launch
Intellectual Property
Successful projects begin with a clear IP strategy aligned with the product development process. Pursuing a patent without having the concept reviewed by a design resource can be an outstanding way to produce a very expensive piece of paper with little value. Our process aligns prototype design and regulatory evaluation with the development of the IP to provide the greatest asset value.
Learn More >
Intellectual Property
IP strategy
Submittal preparation
Examination support
Comprehensive Process management
Contact us to discuss the goals for your brand.